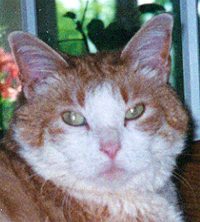 It was a dark and stormy night....

Truly, it was. One night in 1989 a torrential downpour was beating on our little town, one of those noisy, extremely wet, storms that make you grateful for the roof over your head.

Out of nowhere Hazel appeared in a window, plastered against the glass, bedraggled and pleading to come inside. How could we resist?

Our vet estimated she was about 2 at that point. She was skittish and very tense, and I wondered whether she would ever relax and realize she was finally home.

When I went to retrieve her after she was spayed, I was at the front desk settling the bill while the technician went back to get her for me. Suddenly we heard this loud, echoing purr coming down the hallway - it was Hazel, bless her heart. She had heard my voice, and her motor started revving. I knew then she was my little girl.

In short order, Hazel made it clear that her true name was Miss Hazel Buttercup. She expected to be addressed as "Your Royal Highness," and she assumed the role of surrogate mother to our sons.

She helped them with their toys - a favorite, of course, was the race car set with its zippy little cars which invited observation and de-railing.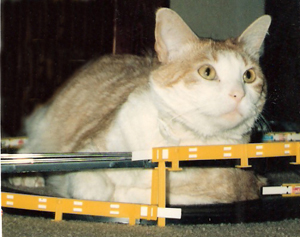 Other cats arrived, and Hazel made sure they knew she was of royal blood. She tolerated all of the newcomers, but she was nicer to the boys than she was to the girls. (There can be only One, you know.)


She loved boxes and baskets and shopping bags,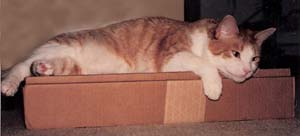 Even when she didn't really fit...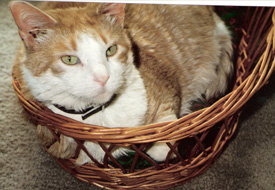 But she was still my girl, and we loved each other.

And so the years passed, until the time came for Hazel to cross to Rainbow Bridge. She had been battling cancer - oh so brave! - but even her strength of will finally bowed to the disease.

The Sunday before she died on the following Friday, March 5, 2004, she sat quietly in the sunbeams for a final portrait. She sent her soul through her eyes, and I treasure this picture. Even though she is ill and frail, her strength shines out, I think.

I miss you, my cranky girl. I know you are happy and healthy again, and I know you offer your wisdom and advice to all who need it. Cully tells me that you and she work together, and that makes me very proud of you. But I still miss you....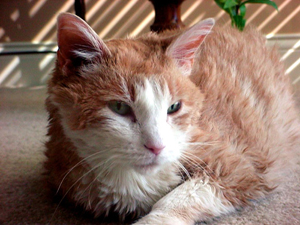 Hazel would love for you to read her poems.