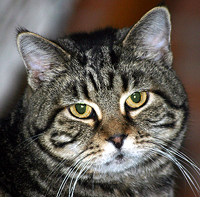 Words almost fail me when I try to describe this dear little girl, this gentle creature who quietly stole my heart and shared her soul with me. Just look at this sweet face....

She and her brother and sister arrived as nursing kittens, along with their mother, in May 1994. Some fool dumped them, and they found their way to our house.


(Our house is the one with the big arrow overhead, the one that says, "Homeless Cats Welcome Here.")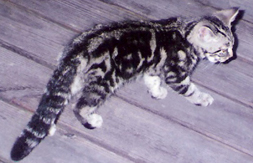 Baby Cully - such a little sweetie - with a perfect tabby-cat coat. Our younger son told us her name was Cully because of those gorgeous colors.

Cully was the quiet girl who rarely meowed, always waited on the others to eat first, didn't intrude. She lived with us, a part of our household, which at one point included 7 (yes, 7) cats. She tolerated everyone, and never made a fuss.

Eventually, we were down to 3 cats (many other stories there) - Cully's brother Bert, Cully, and our resident alpha female, Miss Hazel Buttercup. Hazel always dominated the household, and Cully deferred to her, except for the occasional ladylike name-calling.

The time came when Hazel moved on to Rainbow Bridge, and Cully became the royal female. She blossomed into a personable girl, and at 10 years old, she played like a kitten.

She greeted me every morning, shared her news with me, purred like crazy, and suddenly became a professional head-boinker, sharing her love and contentment like never before.

She loved basking in the sun, indoors or out, fitting herself into the sunbeams perfectly.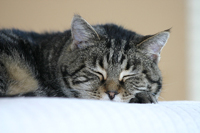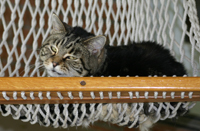 Her best thing was sleeping, although she would politely try to smile for the camera if I snapped a picture of her.

She traveled to Rainbow Bridge on December 2, 2005. She had been sick the night before, and our vet had us take her for exploratory surgery the morning of the 2nd. The surgeon discovered she had widespread cancer and could no longer swallow. There was nothing to be done so we let her sleep her way to heaven. Even today the horror and tragedy of that day are painfully real.

Cully, however, is a resilient girl, and she has told me in many ways that she is purrfectly happy in her new home. She has sent me messages. She has told me that she has a job at Rainbow Bridge, a special role for a special girl - she greets newcomers, the ones who are having a little difficulty making the crossing, for whatever reason. She welcomes them and eases their passage.

She may not be with me physically any longer, but she is ever in my heart. And our love for each other grows every day.

Some dear friends made lovely pictures to show how they picture Cully now. I think Cully is pleased....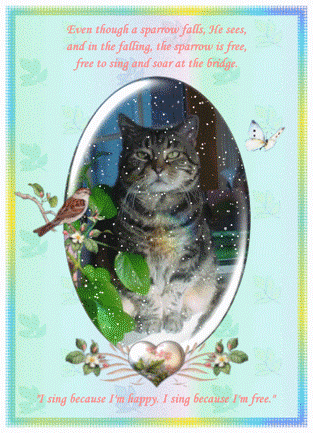 Thank you, Colleen, Sharon, and Yvonne!